084 numbers have not been perceived (by the general UK public) as being that expensive numbers to call, the description of 0845 or 0844 is low call rate.
However we have a problem, which is that the suppliers of these 08 numbers are been incorrectly held accountable for the charging (excessive call charging) being applied when callers are dialling 0844, 0845 or 0843 numbers from their mobiles.
The aim of this blog is to shed some daylight on who is responsible for charging you these excessive fees and to highlight the major networks who appear to be dishonest in their approach to this.
Hopefully this information will help you to become more aware when choosing which mobile phone networks to use.


If you need to call 084 numbers on Three, beware.


"I recently received my monthly bill from 'Three Mobile' and have been charged £13.80 in Access Charges for phoning 0844 numbers! That works out at a whopping 55 pence per minute of an access charge! What can I say to Three Mobile other than thanks, what a total rip off Three!
The number I dialled was 08444 93-XXXX and the range holder of this 084 range is Virgin whom actually chose a reasonable 7 pence per minute service charge which applies when you call this 08444 93 number range. Yet looking at my bill a month later and I see I've actually been charged a total of 62 pence per minute. So that is an extra charge of 55.2 pence per minute access charge from Three Mobile.
Yes so for a total spent of 25 minutes last month calling 0844 numbers from my mobile, Virgin 7p part of the call charge for dialling the 0844 number cost me £1.75, yet Three charged me £13.80 in addition, so then making a total of £15.58. I have never received any information to tell me Three were increasing the Access Charge from 45p to 55p.
I decided to check the Ofcom website which states that Three Mobile charge access is 45 pence per minute. So how have I been charged an extra 10 pence per minute? Potentially the Ofcom website needs updating but the price points were updated on 27th September 2019.
That's a few months ago, yet Three, whom it seems have increased their access charge, have not notified customers nor Ofcom? yet another underhanded move by a mobile network! Grhhh.
Having done a bit more research we found out that it appears that such Access Charges can be increased at any time by Three without the need to advise Three customers.
Such access charge price points vary massively across networks where we have seen as low as 5p access charge, so if you do have a requirement to call a (SC008) 0844 7 pence per minute , choose your network carefully.
So good luck trying to check accurate access charge rates ongoing on Ofcom But we hope these access charges listed below can be used as a guide at least.
Maybe it's time to change mobile network provider".


08UK - Tynan O'Hara – Sales Director


UK Access Charges (as of 29th September 2019 – Ofcom Website) & Service Charges to Dial 084


Provider

Access charge (per minute)

Service charge (per minute)

8p

Between 2p and 7p

Between 0p and 30p depending on call plan

Between 11p and 65p depending on call plan

25p

12p

23p

55p

9.58p

14p

15p

15p

12.5p from landline; 25p from mobile

25p

55p

36p for pay as you go customers; 58p for pay monthly customers

45p for pay as you go customers; 55p for pay monthly customers

11p


Real Example of Bill showing Access Charge - applied by Three Mobile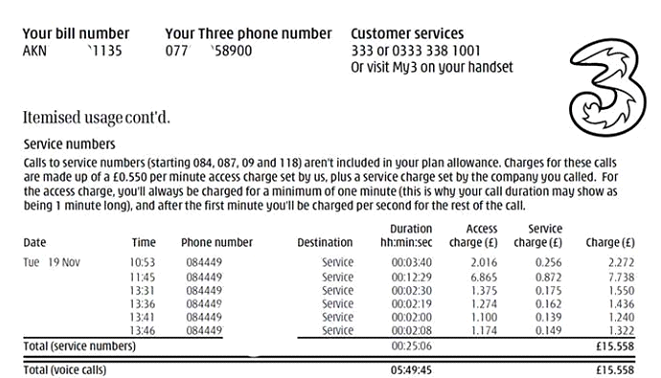 If you would like to talk to one of our team to get any point clarifying please do not hesitate to contact us.

Call us now on 0800 692 7000 or email new@08uk.co.uk so we can call you back.