Two years ago 08UK reported that BT were scrapping the majority of traditional red phone boxes we see on our UK streets today. In 2016 we looked at some of the innovative ways that phone boxes have been used to help local communities ie using defibrillators, creating libraries, mobile phone charge stations and Wi-fi hotspots.
Today we take a look inside the red telephone box graveyard where these so called dead payphones are being resurrected. Company X2 Connect in Newark currently refurbishes some of these dead payphones. Since starting restoration project on these phone boxes nearly five years ago, 600 boxes have been refurbished. Each box is restored over a four week cycle bringing the box back to as close to its original standard as possible. Some of the boxes have been resupplied to BT and others sold onto the general public, local authorities and commercial companies Worldwide.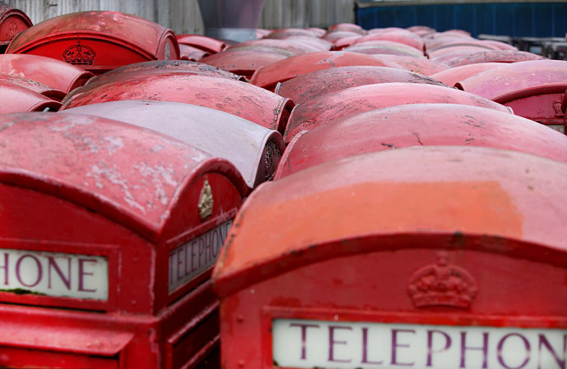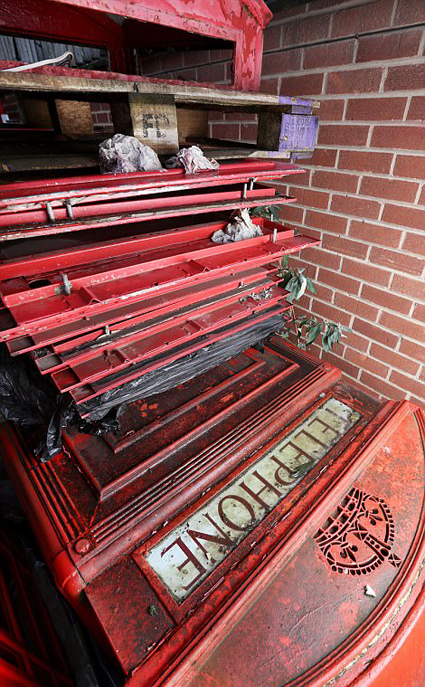 The Iconic telephone boxes await restoration in this telephone box 'graveyard'
The telephone boxes, also known as the K6 kiosks, are predominately of cast iron construction with a timber doorframe and weigh approximately 750kg.

The K6 was designed in 1935 by Sir Giles Gilbert Scott to commemorate the Silver Jubilee of the coronation of King George V 60,000 K6 boxes were installed across Britain. Sir Giles was an English architect known for his work on Liverpool Cathedral, Waterloo Bridge and Battersea Power Station. First designed by Sir Giles Gilbert Scott, his K2 cast iron telephone kiosk won a Post Office sponsored competition in 1924. The K2 box was introduced to the capital in 1926 and was used solely on the streets of London - with the exception of a few locations elsewhere under special circumstances. Only around 1,500 K2 kiosks were ever manufactured and just a few remain standing today. Scott's K6 design followed more than a decade later in 1935. The K4 kiosk was developed by the Post Office Engineering Department based on the K2 design.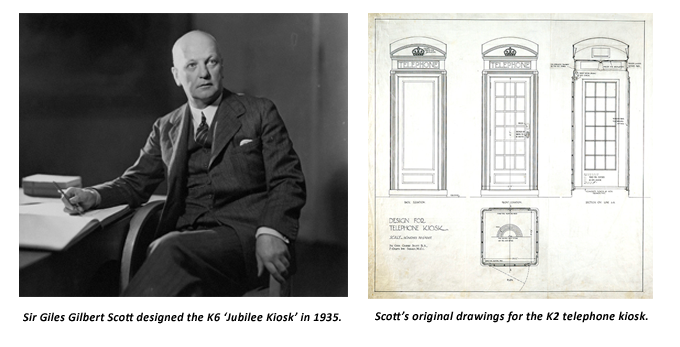 K6 Red Phone Box Facts:
• The K6 'Jubilee Kiosk' commemorates the Silver Jubilee of the coronation of King George V.
• The K6 kiosk was the first kiosk installed nationwide and the standard kiosk across the UK until the introduction of the K8 in 1968.
• The K6 is made from cast iron with a teak door. It is 8'3" tall (2.4 metres), 3' wide (0.92 metres) and weighs 762 kilograms.
• The K6 design was approved by the "Post Office red" as the standard colour.
• Two K6 kiosks were installed in France during 1995 For the 50th anniversary of the D-Day landings.
• Two red K6's have been transformed into combined payphones and cash machines.
The Evolution of the British Phone Kiosk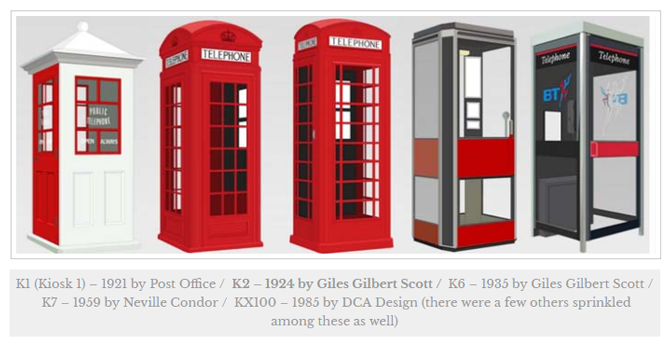 08UK Ltd decided to invest in our very own iconic K6 telephone box.
In good condition (reconditioned) these phone boxes can fetch up to £10,000.
The K6 was the most prolific kiosk in the UK and its growth.
1925 – 1,000 (K1 Only)
1930 – 8,000 (K2 and K3 Red Phone Boxes added)
1935 – 19,000 (K6 Red Phone Box introduced)
1940 – 35,000
1950 – 44,000
1960 – 65,000
1970 – 70,000 (K8 Red Phone Box introduced in 1968)
1980 – 73,000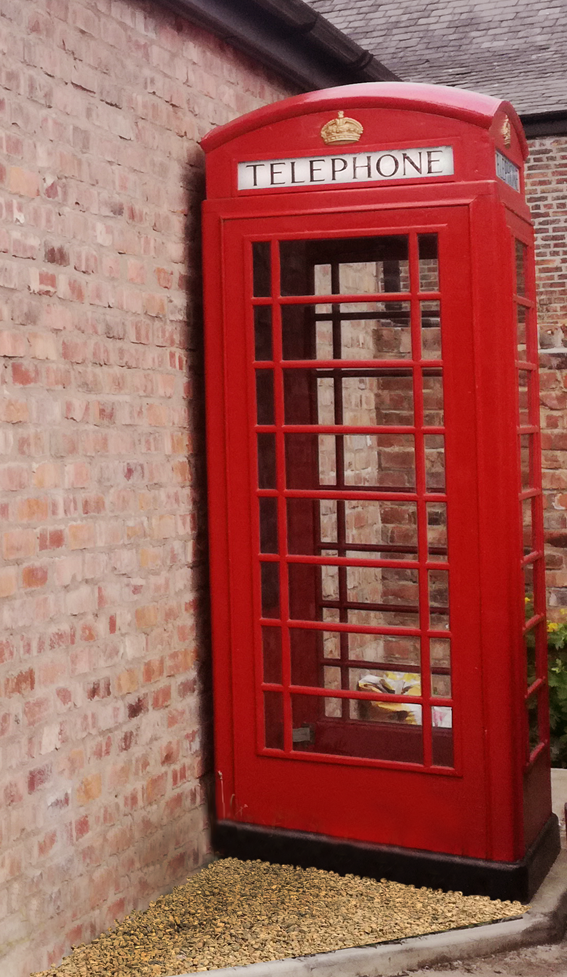 08UK Ltds very own K6 telephone box.
On July 28, 1981 BT Chairman Sir George Jefferson officially launched the card phone trial in London.
8,300 Card phones were distributed across the country in 1983 and the phenomenon expanded through the late 80s.
In 1985, following British Telecoms privatisation, the firm launched a modernisation scheme of its public telephone network inherited from the General Post Office.
The new KX kiosks - with the KX100 variant being the most popular - were rolled out at a rate of 5,000 a year with the BT network reaching 137,000 kiosks by 1999.
The KX100s were four-sided rectangular boxes with flat roofs and made extensive use of glass - with two large window panels set above and under a black plastic modesty panel.
The decline in payphone kiosks on UK streets today is a result of mobile phone handsets - everyone has one today. This has caused a reduction in the number of phone boxes in the UK.
According to British Telecom there were 92,000 payphones in 2002 and there are now currently 46,000.
In 1980 there were 73,000 traditional red phone boxes but that figure has been vastly reduced to just 8,000 today.
However, with members of the general public demonstrating creative solutions for the reuse of the iconic red phone box, that figure is sure to rise in future years.
If you would like to talk to one of our team to get any point clarifying please do not hesitate to contact us. Call us now on 0800 692 7000 or email new@08uk.co.uk so we can call you back.