Approximately 25% of the Worlds' population are part of Generation Hashtag.
The term Generation Hashtag is used to describe anyone born between the years 1991 and 2005 so are you part of Generation # ?
Generation Hashtag has had a significant effect on consumer behaviour as this group is a combination of Millenials and Generation Z so are tech-savvy, hyperconscious and expect bespoke omni channel experiences.
Older members of Generation Z and younger Millennials make up the Generation Hashtag. This demographic cannot sanction a World without Smartphones or the internet and their priorities are influencing the Corporate World.
Companies like Netflix, Uber, and Airbnb have been largely successful due to Generation Hashtags influence. These companies have now established themselves as market leaders.
With the buyer power shifting from Millenials towards Generation Hashtag means companies need to monitor and research emerging technologies such as AI and application.
Global Research has found that 76% of 18 to 24 year olds use smartphones to engage with events and the latest news articles while 70% use them to interact with friends and family.
Born during the internet era; connectivity is an absolute must for Generation Hashtag.
This generation will thrive with the evolvement of superfast 5G broadband being rolled out across the UK, this will surely lead to an influx in new technologies and omni channel possibilities which Generation Hashtag will welcome with open arms.
Who knows maybe the next Generation will be called – Perhaps Generation 5G.
Generation Hashtag includes younger Millennials and older members of Generation Z
members are also referred to as digital natives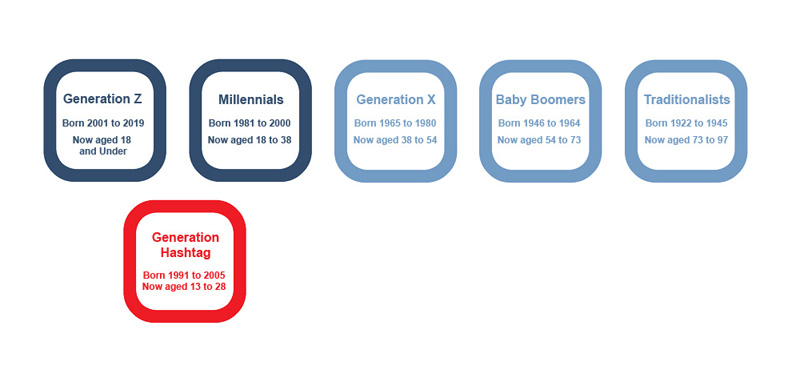 If you would like to talk to one of our team to get any point clarifying please do not hesitate to contact us. Call us now on 0800 692 7000 or email new@08uk.co.uk so we can call you back.